Administrator
Staff member
Buenos días.
- Nuevo evento Dragon Lunar
. (Se puede consultar en la ventana de eventos cuando está activo.) (El evento estará durante 10 días.)
- Se ha añadido un nuevo sistema para regalos diarios.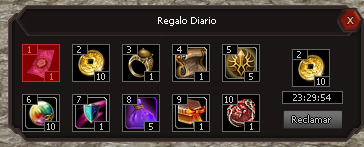 - Se han añadido nuevos dominios y recompensas. (Lo siento por los que ya han subido al 225)
- Se han añadido drop de flores V2 en mapas 200+.
- Se ha añadido el cambio de nombre de gremio y desvincular un objeto a la Itemshop.
- Se ha actualizado la tienda de Vote4Coins. (También actualizaremos la página para que puedas comentar sobre el servidor en otros foros y nos ayudéis a crecer.)
- Ahora puedes mejorar mas las monturas base con el nucleo Ahnk.
- Se ha añadido el refinado PvP a la tienda PvP.
- Evento de Búsqueda ahora solo tiene un mapa.
- Arreglado el problema de sonido de las habilidades.
- PvP
- Se ha reducido los puntos máximos de 1000 a 800.
- Se ha aumentado la recompensa del equipo ganador de 150 a 350.
- Ahora crystal tiene una ronda mas de monstruos.
- Dominium ahora no ganas puntos capturando, se obtienen conforme se obtienen los puntos de equipo al tener capturada una zona. También se otorgan puntos extra por defender y atacar en los círculos.
- Se ha añadido el ranking de dominium.
- Denfis ahora quien tenga el rol de defensor no obtendrá puntos por atacar al metin, pero obtendrá mas puntos por defender y matar a los del equipo contrario.
- Ahora se obtienen puntos de Rank haciendo daño, y no haciendo muertes.
- Se han añadido nuevos bonus al equipo PvP (Tenía pensado ponerlos cuando hiciera un reciclador para objetos pvp, pero los bonus pvm han adelantado esto) ->
https://ascyra.net/forum/index.php?threads/bonus-table-pvp.26/
- Se ha reducido el bloqueo de 15 a 10, ya que ahora en la armadura también se puede obtener.
- Se ha arreglado el problema por el cual algunas habilidades de bonus curaban.
- No atacar, pasar de una persona, (porque sea tu novia, amigo, del mismo gremio...) en un evento PvP que sea del equipo contrario, y asi perjudicar a tu equipo, será castigado con el bloqueo del evento, eventos o incluso con un bloqueo, dependiendo de la gravedad del asunto.
La próxima actualización será en 10 días, entre otros estará el evento de san valentin y nuevo pase de batalla.
Good Morning.
- New Dragon Lunar event. (You can check in the event window when it is active.) (The event will be for 10 days.)

- A new system for daily gifts has been added.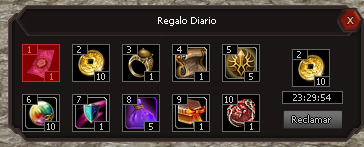 - New domains and rewards have been added. (Sorry for those who have already risen to 225)
- V2 flowers drop on 200+ maps have been added.
- Added the change of guild name and unlink an item to the Itemshop.
- The Vote4Coins store has been updated. (We will also update the page so you can comment on the server in other forums and help us grow.)
- Now you can upgrade more base mount with anhk core.
- PvP refining has been added to the PvP store.
- Search Event now only has one map.
- Fixed the problem of sound skills.
- PvP
- The maximum points have been reduced from 1000 to 800.
- The reward of the winning team has been increased from 150 to 350.
- Now Crystal has one more round of monsters.
- Dominium now does not earn points by capturing, they are obtained as team points are obtained by having an area captured. Extra points are also awarded for defending and attacking in circles.
- The dominium ranking has been added.
- Denfis now who has the role of defender will not get points for attacking the metin, but will get more points for defending and killing those of the opposing team.
- Rank points are now earned by doing damage, and not killing.
- New bonuses have been added to the PvP team (I planned to put them when I made a recycler for pvp objects, but the pvm bonuses have advanced this) ->
https://ascyra.net/forum/index.php?threads/bonus-table-pvp.26/
- Fixed issue where some bonus skills heal.
- Do not attack one person, (because it is your girlfriend, friend, from the same guild ...) in a PvP event that is the opposite team, and thus harm your team, will be punished with the blocking of the event, events or even with a block, depending on the seriousness of the matter.
The next update will be in 10 days, among others will be the Valentine's event and new battle pass.
Last edited: