Administrator
Staff member
Buenos días.
Actualización enfocada a nuevos jugadores.
- Nuevo Ranking PvP (Fase beta) (A lo largo de la mañana se adaptará en la web también)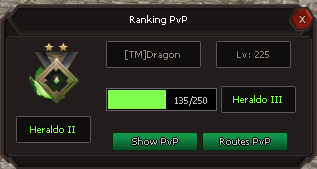 -- De momento la obtención de puntos esta en fase beta. (Puntos de ruta/10) , mas adelante se verá la mejor forma de recompensar cada raza.
-- Aquí tenéis una imagen con los rangos. (No incluyen puntos, porque seguramente varíen)
- Reseteo de ambos rankings, PvM y PvP. (Cada cierto tiempo, todavía falta determinar se reseterán los rankings, para que cualquier persona tanto nueva como vieja pueda acceder al TOP) (Todavía queda determinar también los regalos etc..)
- Se han eliminado los libros de habilidades, ahora las habilidades suben directamente a Perfect (quien no las tenga, puede comprar un objeto en la tienda -> objetos especiales)
- Como recompensa por los que ya hicieron la piedra Perfect de Mazmorra, próximamente se convertirá en un objeto para cambiar los efectos y colores de tus habilidades.
- Se ha mejorado la cantidad de monedas de evento que se reparten en todos los eventos.
- Ox ahora al acertar una pregunta obtienes también monedas.
- En Azrael por quedar en segunda y tercera posición también obtienes monedas.
- Se ha añadido una mascota adicional a la tienda de eventos.
Good Morning.
That Update is focused on new players.
- New PvP Ranking (beta phase) (Throughout the morning it will be adapted on the web as well)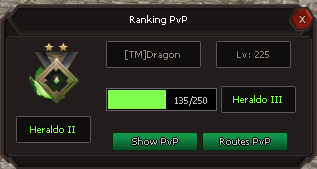 - At the moment the obtaining of points is in beta phase. (Waypoints / 10), later we will see the best way to reward each race.
- Here you have an image with the ranges. (They do not include points, because they will surely vary)
- Reset of both rankings, PvM and PvP. (From time to time, it is still necessary to determine the rankings will be reset, so that anyone both new and old can access the TOP) (There is still to determine the gifts etc.)
- Skill books have been removed, now the skills go directly to Perfect (whoever does not have them, can buy an item in the store -> special items)
- As a reward for those who have already made the Perfect Dungeon stone, it will soon become an item to change the effects and colors of your skills.
- The amount of event coins that are distributed in all events has been improved.
- You can get coins in Ox now by matching a question.
- In Azrael for being in second and third position you also get coins.
- An additional pet has been added to the event shop.