Administrator
Staff member
Buenos días.
- Semana 2 del pase de batalla.
- Ahora el evento del dragón es diario.
- Nueva ventana de almacén y ahora se puede abrir con la letra
o
- Pesca disponible en las ciudades.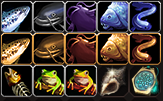 -- Los peces pueden otorgar bonus de exp,yang,drop,karma y pesca. (Al asarlos)
- Minería disponible en mapa especial de minería.
-- Con la pesca y minería se pueden obtener una moneda especial para comprar cosas. (Próximamente mas objetos)
- Se han añadido 7 monturas y 2 pack pvp a la itemshop. (El dinero recaudado esta semana se usará exclusivamente para hacer promoción del servidor)
- Sorteo de Facebook
(7000 Mds)
Good Morning.
- Week 2 of the battle pass.
- Now the dragon event is daily.
- New tab safebox and can now be opened with the letter o
- Fishing available in the cities.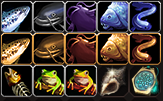 - Fish can grant bonus of exp, yang, drop, karma and fishing. (Grilling them)
- Mining available on special mining map.
-- With fishing and mining you can get a special currency to buy things. (Soon more objects)
- 7 Mounts and 2 pvp pack have been added to the itemshop. (The money raised this week will be used exclusively to promote the server)
- Facebook event (7000 Mds)