Administrator
Staff member
What is corruption?
Corruption is a new independent attribute, which reduces the damage suffered in the corruption dungeons.
Fear
and
zaramal
.
This new attribute does not apply to monster or similar resistances. In addition, it ignores defenses of the type, evasion or blocking.
How can I build resistance to corruption?
Potion against corruption
This can be crafted in F5 from materials from corruption dungeons. It will grant us 7% resistance for 30 min.
Corruption set
The 225 team has an evolution that will give us resistance to corruption. The necessary materials, we will find them in their respective dungeons.
For the evolution of the weapon, we will need to do the Fear dungeon.
For the evolution of the armor, we will need to do the Zaramal dungeon.
Reset Bonus
We can invest some reset points, in resistance to corruption, up to a maximum of 6% resistance.
Reset sytem and bonus
Shaman support corruption
If you don't know how support shamans work, read this guide.
In the same way that the shaman support auras, we have a corruption shaman. We will get this in the
Fear dungeon
, as part of the final boss drop.
We can improve these, taking materials in each dungeon, and crafting their books, to level them up.
From level 1 to level 10, we will need 9 Upgrade Shaman C. 1

we will need Fear materials to create it.
From level 10 to level 20, we will need 10 Upgrade Shaman C. 2

we will need Zaramal materials to create it.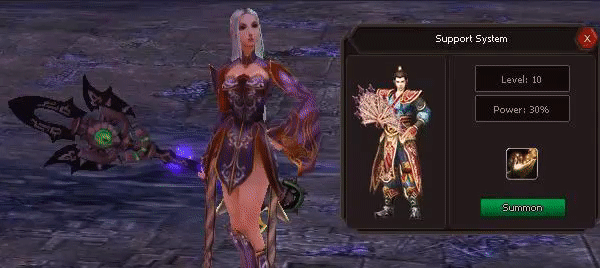 Corruption dungeons
These dungeons are of high difficulty, it is only recommended to enter when we are ready, with the maximum possible pvm equipment. Being corruption dungeons, any other type of defense will not be effective.
We can do the dungeons alone or in a group, up to a maximum of 3 people per group. By doing it in a group, the difficulty of the dungeon will increase as well. As well as the reward.
Being farming dungeons, we will have to repeat them several times, as their drop is low, especially for Helix items.
Recomendations…
It is important to make use of the V2 potions.
Have a good base of the pvm team. Outfits, pet, mount, and mount level, etc.
Don't fight all mobs at once, they are very strong.
Kill the mobs in small groups like this until each room is completed.
Start doing Fear, in order to get the shaman support as soon as possible.
Fear Dungeon
Zaramal Dungeon
Last edited: